BLM Proposes Permitting Revisions to Support Renewables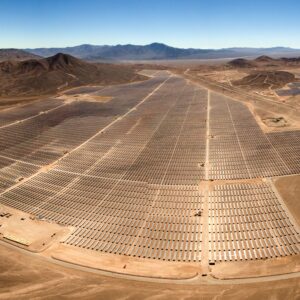 On 15 June 2023, the U.S. Bureau of Land Management (BLM) released a proposed rule that would partially rewrite the agency's regulations pertaining to wind and solar energy development of federal public lands. Comments are due by 15 August 2023.
The proposed rule would significantly reduce BLM's annual charges for new and existing wind and solar rights-of-way (ROWs) by using different methodologies to calculate acreage rent and capacity fees and applying additional reductions; allow for noncompetitive leasing within designated leasing areas (DLAs); and make various other changes to the existing regulations that are generally favorable to ROW applicants and grantees. However, certain aspects of the proposed rule, such as updates to how BLM prioritizes renewable energy applications, are ill-advised. Stakeholders should also consider how the proposed rule will interact with BLM's recently proposed Public Lands Rule and the agency's ongoing effort to update the 2012 Solar Energy Development Programmatic EIS (Solar PEIS) in ways that could severely restrict areas available for renewable energy development. Comments on the proposed rule are due by 15 August 2023. The final rule is expected in the spring of 2024.
Background
BLM's renewable energy program is governed by the Federal Land Policy and Management Act of 1976 (FLPMA) and its implementing regulations at 43 CFR Part 2800. Since the regulations were promulgated in 2016, interest in siting wind and solar projects on BLM-administered lands has continued to grow. Meanwhile, the Energy Act of 2020 directed the Department of the Interior to permit 25 gigawatts of renewable energy on federal lands by 2025, and Presidential Order 14008 sets a goal of decarbonizing the nation's power sector by 2035. BLM announced the proposed rule to further incentivize wind and solar energy development on federal public lands to meet these ambitious targets by lowering annual costs and relaxing competitive leasing requirements.
The proposed rule is also a response to an escalating dispute between BLM and industry over wind and solar rent rates. In 2021, BLM published new solar and wind rent schedules and reassigned counties to different rent "zones," which resulted in major rent increases overnight. In some cases, annual charges increased by nearly 300 percent in 2021 relative to 2020 rates. All the while, Section 504(g) of FLPMA requires BLM to collect fair market value for use of federal lands. A slew of administrative appeals ensued, and in response BLM issued guidance in 2022 reducing wind and solar rents and capacity fees. The proposed rule codifies those rent reductions in regulation and takes them even further.
Acreage Rent and Capacity Fees
The most notable aspect of the proposed rule is to overhaul how BLM calculates annual charges for wind and solar ROWs. The proposed rule reduces rates in several important ways:
BLM will charge the greater of either acreage rent or capacity fees, but not both. Under the current regulations, BLM levies both acreage rent (based on the amount of land encumbered) and capacity fees (based on the amount of electricity generated) each year. Switching to one or the other alone would significantly reduce annual bills.
BLM will calculate acreage rent based on more relevant data points. Under the current regulations, BLM calculates acreage rent using results from the National Agricultural Statistics Service's (NASS) 5-year survey of sale value of unirrigated cropland. The proposed rule would instead use NASS's cash rent surveys for pastureland, which is far lower and more accurately reflects market rent. In addition, the encumbrance factor for wind energy would be reduced from 10 percent to 5 percent, further lowering rents.
BLM will calculate capacity fees based on actual electricity production. Under the current regulations, BLM calculates annual capacity fees based on a project's nameplate capacity. The proposed rule would levy capacity fees based on actual electricity production in a given year. ROW grantees would be required to submit a certified statement to BLM each October describing the previous year's actual production and the following year's projected production.
BLM will apply several capacity fee reductions. A blanket 80 percent reduction applies to capacity fee calculations through 2035, after which the reduction will be reduced to 20 percent. Projects are eligible for an additional 20 percent reduction if they use American made parts, and BLM is considering another reduction for using union labor.
Annual charges will be stable for the life of the ROW. Acreage rent and capacity fee rates will be established at the time of ROW issuance and will remain the same for the life of the ROW subject to a 3 percent inflation adjustment. This provides welcome certainty and will avoid major rent swings as the industry experienced in 2021.
The new rent and capacity fee methodologies in the proposed rule will apply to all new wind and solar ROWs. Existing ROW grantees can also take advantage of the lower rates by applying for ROW reissuance within two years of the final rule.
Capacity Fee Administration
As noted above, the proposed rule would require ROW grantees to submit annual statements of the previous year's actual production and the following year's projected production. Capacity fees paid in advance will be based on the next year's projection. If the projection turns out to be higher than actual energy production in a given year, BLM would issue the grantee a refund for overpayment. If the projection is lower, the grantee will owe BLM the difference. If the projection is lower by 10 percent or more, the grantee may owe late payment fees as well.
For example, in October 2025, a solar ROW grantee will report the actual electricity production of the facility in 2024, anticipate the electricity production in 2026, and make an advanced 2026 capacity fee payment based on the projection. It will not be until October 2027, when the grantee submits that year's report, that the actual 2026 production will be known and BLM will either collect or reimburse the difference between the projection and the actual number.
This system will be complicated to administer across all wind and solar projects. The concept of charging capacity fees based on actual energy production instead of nameplate capacity is a good one, but the administrative overhead of an annual reporting, refund, and collection programs could be substantial. The refund process could be slow, and the whole system could divert valuable agency resources away from processing renewable energy applications. In any event, the very concept of charging capacity fees based on electricity production is legally suspect because it is not tied to a proprietary resource and BLM lacks the authority to tax.
Competitive Leasing
The second major component of the proposed rule is to allow for noncompetitive lease offers within DLAs. The existing regulations require BLM to offer leases competitively in DLAs. BLM found that this requirement hindered renewable energy buildout in DLAs for lack of competitive interest. The noncompetitive process would be the same as for variance lands outside of DLAs.
Under the proposed rule, BLM would still have the discretion to go through the competitive leasing process within DLAs, and competitively offer ROWs in variance lands if competitive interest exists. The successful bidder in a competitive lease offer would become either the preferred applicant or the presumptive lease holder:
Preferred applicants would have the exclusive right to submit a ROW application without competition, but other uses would be allowed in the meantime.
Presumptive lease holders would be able to skip initial application review and have exclusive site control. Winning bidders become presumptive lease holders if BLM has already conducted NEPA review for a project in the subject area.
There is one relatively minor but potentially impactful aspect of the proposed rule concerning competitive leasing that deserves scrutiny and public comment. Under the current regulations and BLM guidance, competitive ROW offers are foreclosed once a first-in-time applicant has submitted a completed application, plan of development, paid application fees, and entered into a cost recovery agreement with BLM. Under the proposed rule, competitive offers for a site under application would only be foreclosed once a draft environmental assessment or environmental impact statement is published for the proposed project. This is far too late in the entitlement process to allow a later-filed overlapping application to trigger competitive leasing after the original applicant and BLM have expended significant resources on preparing and reviewing the application, holding meetings, and preparing resource studies.
Application Prioritization
How BLM prioritizes renewable energy ROW applications can make or break a project, and receiving a low priority determination can effectively be the same as a denial. Under the existing regulations, BLM considers four high-priority criteria, eight medium-priority criteria, and six low-priority criteria to determine an application's priority in addition to local guidance. However, there are no objective standards for how the criteria translate into a high, medium, or low prioritization. The proposed rule would do away with that structure and instead simply list six considerations for BLM to evaluate "holistically" when making application prioritization determinations. While intended to clarify the prioritization process, the proposed rule in reality would further reduce transparency into BLM's decision-making process in this important application step by foregoing what little guidance is in the existing regulations concerning which factors support which determinations. The proposed rule also expressly allows local guidance to supplement the regulatory criteria, which some BLM field offices are already doing to further obscure the judgment behind the ultimate determination. The proposed rule should instead have objective criteria for how BLM assigns priority: for example, if an application meets two high-priority criteria, then it should automatically be designated high-priority.
On a positive note, the new prioritization factors include a criterion for compliance with state law. If an application does not observe state law (for example, by failing to file a required notice), then it may be deprioritized, which will allow BLM to focus on more sophisticated applications that have their ducks in a row at both the federal and state levels.
Application Processing and Cost Recovery
The proposed rule would generally maintain the existing process for reviewing renewable energy ROW applications with a few tweaks concerning funding. For one, the proposed rule would allow BLM to deny an application after 90 days if reasonable costs have been requested of the applicant but not received, or if identified application deficiencies are not remedied. This is a good way for BLM to keep its focus on serious (i.e., compliant) applications.
The proposed rule also provides that cost recovery account funds may be used to hire additional staff or contractors to aid in application processing. The ability to outsource application processing responsibilities could considerably speed up application review and should be welcomed by developers long frustrated with BLM's application backlog.
Notably, the proposed rule would increase the maximum term of renewable energy ROW grants from 30 years to 50 years.
Ancillary Facilities
As discussed above, the proposed rule would significantly lower annual charges for renewable energy ROWs. However, these reductions would not apply to ancillary facilities such as gen-ties, operations and maintenance buildings, or battery energy storage systems that support wind or solar projects if they are authorized under separate ROWs. Instead, these ancillary ROWs would continue to be charged the existing linear rent rate, which can be orders of magnitude higher than solar and wind rent even though the facilities are located on adjacent and materially identical lands and are part of the same overall project. The proposed rule should apply the new acreage rent methodology to facilities supporting wind and solar projects to harmonize annual charges between the two.
Relationship to Other BLM Rulemaking Efforts
Although not without its flaws, the proposed rule is a clear win for renewable energy development on federal public lands because it lowers annual charges and adds flexibility to leasing within DLAs.
However, BLM is also engaged in parallel rulemaking known as the Public Lands Rule, which would heavily favor conservation of federal lands by establishing conservation leases, prioritizing intact landscapes, and lowering the bar to designate Areas of Critical Environmental Concern. The Public Lands Rule as proposed could severely restrict renewable energy development on BLM-administered lands by reserving large swaths for conservation.
In addition, BLM is currently updating the Solar PEIS, which delineated at a landscape scale where solar energy is allowed (285,000 acres of solar energy zones aka DLAs), conditionally allowed (19 million acres of variance designations), and excluded (79 million acres of exclusion zones). BLM recently released conceptual alternatives for the Solar PEIS updates, and the results are alarming: three of the five alternatives would remove the concept of variance lands altogether and only allow solar in DLAs, and DLAs themselves could be even further restricted.
In short, while the BLM may appear to be giving with one hand, it also may be taking away with the other. The combined result of the Renewable Energy Rule, the Public Lands Rule, and the Solar PEIS revisions could severely restrict where renewable energy can be sited on BLM-administered lands in favor of conservation. However, for those developers who do manage to secure a wind or solar ROW, the terms could be far more favorable than under the existing regulations.
Bell Kearns specializes in advising on the review and entitlement of large-scale renewable energy projects. If you have any questions regarding this article, please feel free to contact us at +1.415.230.0599 or info@bell-kearns.com.